Residential Tree Services
Tree Trimming, Removal, Emergency Service, and More
Jacksonville's Most-Trusted Residential Tree Services
The trees on your property add privacy, value, and beauty. Big Branch Tree Service takes the cost and hassle out of keeping them looking and living their best. Thanks to decades of experience and an arsenal of world-class equipment, we prolong your trees' lives and ensure you get the most value out of them. When you need us, we will respond quickly and work diligently until you're satisfied with the results.
Residential Tree Services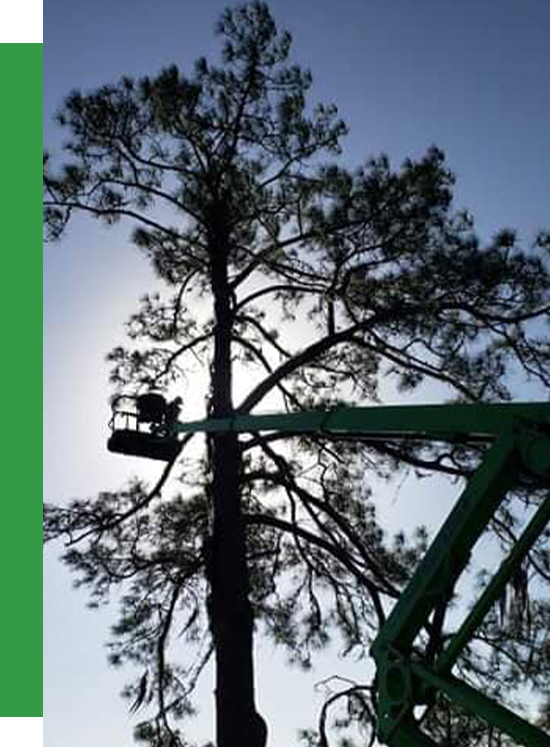 Comprehensive Residential Tree Care
Whether a storm has blown a tree over onto your driveway or tree stumps have become tripping hazards, Big Branch Tree Service is your answer. Prompt, professional, and friendly, our residential tree specialists take care of all your tree needs. We offer the following services:
Trimming and Pruning — We shape your trees for optimal health and long-term safety.

Tree Removal — Whether the tree is damaged beyond repair or old and dangerous, we carefully remove it without damaging your turf and other landscaping.

Stump Removal — We handle the back-breaking work of stump removal with ease thanks to our skill and equipment.

Emergency Service — Clearing driveways, roofs, and landscaping, we respond quickly to any tree emergency.

Debris Hauling — We easily transport and dispose of debris so your property looks its best all year long.

Preservation and Disease Mitigation — We protect trees from pests and unhealthy growth patterns so they stay healthy as long as possible.

Trimming & Pruning

Tree & Stump Removal

Emergency Tree Service

Preservation & Disease Mitigation
Residential Tree Services in Jacksonville That You Can Depend On
Focused on saving your trees and your money, we approach every job with care and attention to detail. For us, tree care is about more than simply keeping trees beautiful — it's about protecting people, properties, and your investments. Therefore, we will never use band-aid solutions or cut corners. We are incredibly quick to respond, no matter what you need, and we don't quit until we know we've done the job correctly. We show up fully equipped with the industry's best equipment and a comprehensive understanding of Florida trees. Most importantly, our customer service has earned us a reputation as the best tree care company in Jacksonville.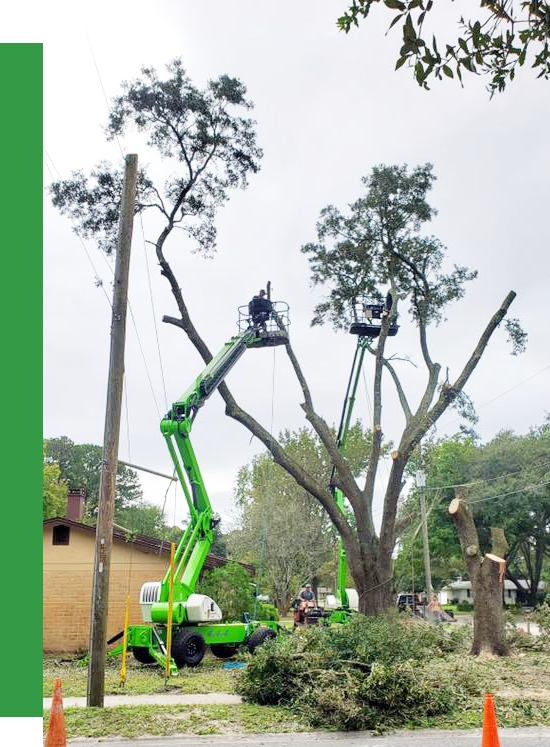 When you entrust your trees on your home's property to our care, we won't let you down. Let our experts show you how easy it is to keep your property looking its best! Whether it's emergency tree services or routine tree maintenance, we'll give your trees the care they need. Get in touch with us today to learn more!
Contact Florida's Most-Trust Residential Tree Service Experts
Let us know what tree services you need on your home property, and we'll surpass your expectations. Contact us today in Clay, Duval, and St. Johns counties by filling out the contact form below. Our tree experts will get back to you with a prompt response, ready to provide superior tree services. We look forward to helping your home look its best!